COVID-19 CASE TRACKER
COVID-19 PRECAUTIONS
Telehealth Visits for established patients experiencing respiratory symptoms.
Your Temperature will be taken upon entering the office.
Appointments are scheduled so there is only one patient in the office at a time.
Mask will be worn in the office during the visit (both patient and provider). PPE will be used when seeing patients with a fever.
Carletta Williams, MSN, APRN, FNP-BC, AACC
35 years of RN experience in Cardiopulmonary Services including Critical Care Nursing and being the Director of Cardiopulmonary Services responsible for CCU (Critical Care Unit), IMC (Intermediate Care Unit), the Cath Lab, Emergency Department, Respiratory Therapy, EKG and IV Therapy.
8 years of FNP-BC experience working in a large Cardiology and Internal Medicine Practice.
I am an Associate of the American College of Cardiology (AACC). which is a credential bestowed on non-physician, cardiovascular specialist by the American College of Cardiology (ACC).
I am a believer in Jesus Christ and know that my steps are ordered by Him.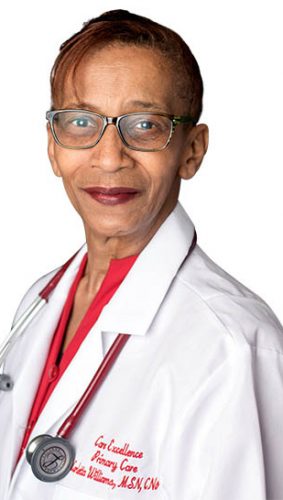 NEED A PERSONAL HEALTH PLAN?
Open Enrollment is over but you may be able to get covered through the Marketplace, Medicaid, or CHIP.